Or - Rainy Day Reading List

We're so close to spring! I can feel it coming on, even though the weatherman says we will have another week in the 30-40 degree range. Here are a few books to get your little ones ramped up for spring in the garden.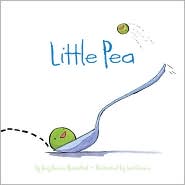 Little Pea by Amy Krause Rosenthal
Planting a garden with your kids might get them to eat more veggies, and this book might too! Love the simple watercolor illustrations.
The Curious Garden by Peter Brown
A good book for introducing your kids to environmentalism. Liam discovers a run-down garden and decides to help the struggling plants along. The garden flourishes, eventually greening his whole town!
Muncha! Muncha! Muncha! by Candace Fleming
Mr. McGreely suffers the bain of our gardening existance in the Midwest - bunnies! Your kids will love the suspense until they find out who wins!
A Seed in Need: A First Look at the Plant Cycle by Sam Godwin
My little girl is fascinated by how caterpillars change into butterflies. I think she is just so interested in the
process
of life and growth and how things work, so I knew she would love this book. It had her asking lots of questions, and eager to see our onion seedlings in the basement, which just sprouted!
The Birdwatchers by Simon James
Yesterday we bought Averie a pair of binoculars. (I have to mention that these were Nikon 10x25 Callaway binoculars, on sale at Dick's Sporting Goods for $19.99, down from $99.99. We bought two.) I picked up this book for her so that she could learn what birdwatching is all about, since we will be planting more native plants and shrubs in our yard this spring that we hope will attract lots of birds!
Thanks to my Aunt Gail for the book suggestions!